Mark Dominik Speaks
October 13th, 2010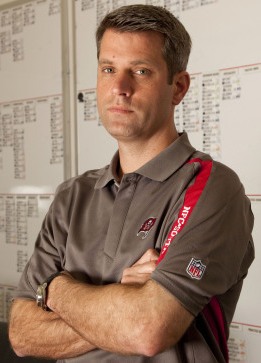 Bucs general manager Mark Dominik made an appearance this morning on "The Opening Drive" for a lengthy interview with co-hosts Ross Tucker and Peter King, heard exclusively on Sirius NFL Radio.
Naturally, Joe transcribed the interview.
Peter King: I will come forward with what I thought of your team before the season which I am sure is great fun for the people in Tampa, that you would take your lumps and you would get your team well-positioned for the future by [losing] and be in a position for a good draft choice next year. And I have been made a total fool of by Raheem Morris and Josh Freeman and that your team is now winning and your team is more feisty than anyone ever would have heard of,  and a guy like Michael Spurlock who nobody every heard of makes a great play on a catch on the sidelines to set up a winning field goal… where were all of us so wrong?
Mark Dominik: Let's be honest, we are 3-1 and we played some close games. But one thing we all attribute this success is that we have been building chemistry on this football team. That is how we tried to build the football team. I had a Jimmy Johnson philosophy in changing the roster around and making some hard decisions. Before, we were claiming guys off of practice squads. We have now set ourselves up into what I call the Tony Dungy philosophy in that we will go all young and grow together.
Ross Tucker: I thought you would take your lumps with the rookies you drafted at wide receiver and defensive tackle because those positions are so hard to learn. Are you surprised you have had this much success this year?
Dominik: I know it's a lot to ask [to win with young players]. Our quarterback doesn't have 16 starts. We tried to look at leadership and the maturity of kids we have taken. Cody Grimm, for example, is a great kid. He's very mature and he takes football so seriously. What he did last week, I was not surprised because those are the type of kids we are going after. That is why we are in the position where are.
King: He had a rough day when the Steelers came to town but you knew he had the personality a tough day wasn't going to ruin him.
Dominik: That's right. But if you look at the film of Cody in that game, sure [getting turned around by Mike Wallace] was a bad play. But after that play, he played a decent game. So you want to build on that. You want him to brush that [Wallace] play off and he is the type of kid that will do that.
King: What a fantastic play he made on Carson Palmer last week, baiting him and baiting him and he waited and waited and waited.
Dominik: It was a coaching move to make it look like it was a Tampa-2 set and [Grimm] held his water and broke at the right time. It was a great move by Cody which gave us some wind in our sail.
Tucker: Can you explain the logic of trading for Kellen Winslow and signing him to such a contact? Barrett Ruud has not gotten a contract extension. I know each player is unique but what are some of the factors?
Dominik: When I spoke with Raheem about building a football team, tight end is a high percentage completion. For us to get a tight end like Kellen was a great opportunity. No matter who the quarterback is, good teams through the years have a very good tight end. Dallas had Jay Novacek. The Giants had Mark Bavaro. You name it. So when I traded for Kellen, I thought it was a sizable investment with the draft picks we gave up for him and I wanted to keep him around. I hope I make the good decisions on who gets the long-term contracts and it is fair for everybody.
King: The most interesting story on draft day was what you did in the fourth round on Mike Williams. I can't tell you how many people's jaws dropped that you did that, so many people, I'd say two-thirds of the teams, maybe more, had him off their draft boards because of his problems at Syracuse. Very few teams went to investigate him to the level you looked at the kid. But you believed in him when you did your research. What did you see in him as a person that it was a safe pick?
Dominik: When we watched the tape, we were convinced of his talent. We couldn't let one or two things keep us away. Did he have a DUI or a violent [arrest]? No. We went back to his junior high school coach. We spent a ton of time to get a feeling on him. Those conversations gave us confidence to draft him and he's a wonderful guy and we are pleased to have him.
Tucker: What does a general manager do during the week, what do you do today?
Dominik: I watch college tape. We got new film in, which is always exciting, and then I will look at tape of one or two free agents [to be] on other teams. Mondays I look at our game tape. You can never be a good football man if you don't know your own football team. So today, I'll watch a little bit of college tape and do a little bit of research on free agents on pro tapes and then I'll watch our practice.
King: Cadillac Williams, he has not been productive this year. You have had some road blocks running the ball. How do you fix it?
Dominik: With Cadillac, we brought in [LeGarrette] Blount and [Kregg] Lumpkin and we have to get those guys up to speed. We may have put a lot of weight on Caddy's shoulders and in this day of the NFL , you should not have one guy carry the load. Part of it was, I think we put too much weight on Cadillac. We need to distribute the wealth and I'm thinking you will see that with our football team.
King: Josh Freeman, tell us about that story about him coming into your office this spring. Can you repeat that story and how that translates into him being a leader?
Dominik: Back in February, I'm looking out the window and I'm on the phone talking with one of our owners, Joel Glazer, who called to talk football and I said, "You will be happy to know Josh is throwing balls to receivers.' And Joel said, 'Shouldn't they all be?' And I said, 'Well, yeah, they should be, but he is.' It shows how he wants to be a leader. Josh put in a phenomenal offseason, he never missed a day. He calls the wide receivers to come in and throw more. Even Sammie Stroughter called me one day and asked if he should fly in from Oregon and if there was anyone around to throw balls to him. That's what I like to see. Josh is also a good closer for us in games. it's very exciting.
King: Gerald McCoy and Brian Price, you surprised a lot of people that with all of your needs, you went defensive tackle and very heavy at one position. I saw Price getting carted off. What is his status?
Dominik: Gerald has played well but he does not have a lot of stats to show for it. There were plays where Kyle Moore made a tackle or a sack and Gerald was getting double- or triple-teamed. That's the kind of production we are looking for, he's taking double-teams. I'm very excited about how Gerald is learning how hard it is to play in the NFL at defensive tackle. You are freaking held all the time.
King: I think the Bucs are one of the best stories in the league, by far. Who would have thought that on October 17 that the Super Bowl champion Saints would travel to Tampa and the Bucs would have a better record than the Saints? It's the theatre of the absurd but it's why we love the NFL, we never know what will happen. I was mind boggled the Steelers came to Tampa and it was not sold out. I was mind boggled that on Monday there was an announcement that the game will not be sold out. Tell me why in your mind you are not getting to generate the buzz on your team. It is people fell out of love with pro football or it is the economy?
Dominik: The NFL is at an all-time high as far as viewership. The Rays struggled with the same thing this year and sadly, they just lost their series last night. The unemployment down here is at 12 percent. We are not disappointed in our fan base. It's just the economy. We are a tourist industry so when people don't have the money to enjoy our beautiful beaches or come here for the weather or our parks, it really hurts our economy and it costs a lot of jobs.
King: Is it disheartening to the team?
Dominik: It's not disheartening to the players. They hear the crowd. The fans step it up. Our fans are loud. We are excited for those who can come to the games. I know it's early in the season.
Tucker: If you get rid of Ronde, you will be the youngest team in the league.
Dominik: (laughs) We are keeping him around so long as he intercepts the ball.
King: He is amazing. I admire him so much.
Dominik: He is amazing and his next interception will No. 40.