Here Come The Blitzes
October 7th, 2010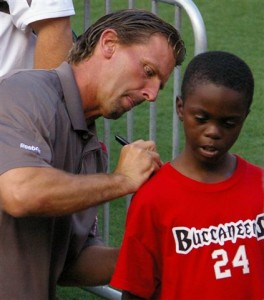 Bitter Marvin Lewis and his Bengals like to blitz, and Joe expects they might enjoy it even more with still-young Josh Freeman under center for the Bucs and a lot of inexperience among Bucs receivers.
This is one reason Joe believes Bucs fans will still see plenty of Cadillac Williams on Sunday. The Bucs are still all about protecting Freeman, and Joe finds it hard to believe the organization is going to trust LeGarrette Blount and Kareem Huggins to pick up a lot of those blitzes.
Former Bucs defensive end Steve White (1996-2001) looks at some keys to Sunday's game on his personal blog and says success on the ground is likely a major key to beating Cincy.
How will the offensive line hold up? After a dismal outing against the Steelers the offensive line will look to rebound against a team that hasn't sacked the quarterback this year but find ways to get a lot of pressure with their blitz packages. How well we run the ball may define whether we win or lose this game.
White is on the money. Josh Freeman can't be expected to carry the offense, not with this receiving corps.
Joe believes Greg Olson is under pressure this week to craft a winning game plan against a beatable but good football team. Olson has had two weeks to dissect the Bengals and prepare. It's time for him to shine.
The Bucs have to compete, and that means the offense must show serious improvement.