Dicey Outlook For Brian Price
October 20th, 2010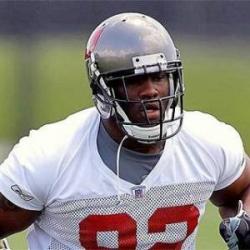 Ryan Sims, pull up your pants.
Brian Price didn't practice today and Raheem Morris said Price is hardly a sure thing for Sunday, per the Bucs official Twitter feed.
DT Brian Price has a pelvis injury and is considered week-to-week. He may not be able to play on Sunday vs. the Rams.
First it was a hamstring injury for Price that limited through the preseason and early in the regular season. Now he's got a pelvis injury. Years ago, Joe knew a wild 180-pound woman, so Joe knows those pelvis injuries can take time.
Joe was hoping/praying the Bucs would find a way to slow down the running game against the Rams on Sunday, and Price would get several chances to rush on 3rd-and-long, what seems to be the strongest part of his game.
Looks like he'll be on the shelf a while. In the world of NFL teamspeak, the "week-to-week" designation is always worse than "day-to-day."