Chucky Reached Out To Blount
October 10th, 2010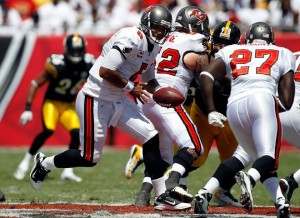 Joe and countless other Bucs fans are itching to see what rookie running back LeGarrette Blount can do today in Cincinnati after his strong debut against Pittsburgh.
Blount's 27 yards against the Steelers were enough to inspire legions of Bucs fans who had forgotten what good running backs do. Joe figures he'll get another 6 to 10 carries today.
Rick Stroud, of the St. Pete Times, penned a long feature today about Blount and his famous punching incident and assorted other details about the young man. Interestingly, after Blount punched a Boise State opponent in the face in September 2009, an incident that derailed his college career, he heard from the last two Bucs head coaches.
Unsolicited, he received phone calls and received encouragement from unexpected sources such as Tony Dungy and Jon Gruden.
Of course, the call from Dungy is no surprise. But Chucky?
"Look, bro, I'm sure Tony told you this is some freakin' challenge from the Lord that you're supposed to rise up to meet. But I'm just callin' to tell you I understand that sometimes you gotta smack a mother fuc*er in the mouth, and that's football. You just did it after the fuc*n whistle.  Jimminy Christmas, I love that sh*t, but this is the 21st century, man, the camera's on and you gotta dial it back. I wanna punch Jaws in the head during the commercials, but I can't because it'll show up on fuc*n YouTube. You know what I'm sayin'?"
Joe is glad Dungy and Chucky were able to help the young man in some small way.