Bucs Stud LaGarrette Blount Speaks
October 31st, 2010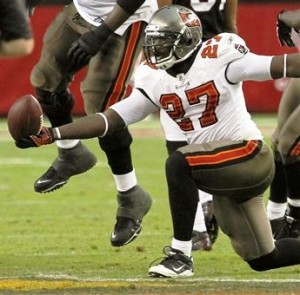 The star of the Bucs win is new fan favorite, bruising LeGarrette Blount.
After running through and running over the Cardinals, Blount had to time talk about the win on the Bucs radio network.
"Winning a football game is the most important thing. It doesn't matter if I had 22 carries for zero yards, as long as we have a win, I am fine with any performance I have.
"On my first touchdown run, I had big cutback land and I won the battle. The offensive line opened up huge gaps for me. They've been doing that the last few weeks for me."
On his fumble which Arizona returned for a touchdown.
"I took a big hit and got a stinger. That's all that happened. It was nothing like me getting hit and them stripping the ball. I got a stinger.
"Coach Raheem told me to take a few minutes and make sure I was OK and to do whatever the trainers told me to do, to make sure I didn't have a concussion. I got back in two or three plays later."
On his one-yard plunge for a touchdown:
"We got our defensive lineman in at fullback and we all manned up. It was best man wins. I won that battle."
On his electric, Renaldo Nehemiah-like leaping 48-yard run which basically sealed the win:
"I just had to run to the left and I saw them so I cut back to the right and a defender came at me. I waited to see whether he was going to tackle me low and my first instinct was to jump over him. Me being 250, I can't juke anyone and I am not going to try to run over someone who is about to take my legs out.
"Definitely, my instincts took over. I was never a hurdler. I never did hurdling in track. It was just football instincts."
On the win:
"Like coach Raheem says, we all play 60 minutes. This is not a 30-minute game and you can't take a half off. You have to play fast and you have to play hard and you have to play smart."