Wide Receivers Showed Inexperience
September 26th, 2010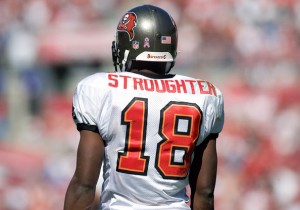 The Steelers dominating the Bucs at the line of scrimmage aside, turnovers by the wide receivers was a huge killer in the 38-13 loss today.
First, it was Mike Williams' first-half fumble after not really being hit hard, and then it was Sammie Stroughter late not catching a quick screen in his hands, which was caught by Steelers lineman Brett Keisel, who rumbled 79 yards for a score.
To Joe, this is just more growing pains, the result of trotting out a bunch of youngsters. The key will be whether they don't do this stuff again.
During the CBS broadcast, analyst Steve Tasker was critical of Williams early in the game for giving up on a deep route. (Yes, Joe had someone feeding him notes off the TV feed outside the blackout zone).
It was good to see Arrelious Benn get some garbage time minutes outside of special teams and get three catches. Joe suspects he earned himself some more snaps.