What You Don't Know About Mike Williams
September 11th, 2010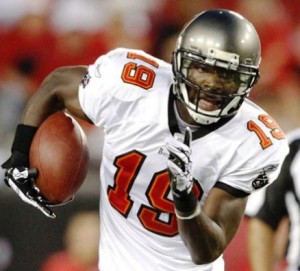 If all the chatter about Bucs rookie wide receiver Mike Williams is correct, you will learn a lot about him in the coming weeks and, hopefully, years.
Anwar Richardson, of the Tampa Tribune, had a sit down with Williams and among other things, learned that Williams had some key connections as a kid growing up.
Anwar: Do you remember your first date?

Michael: Oh, yeah. I didn't think it was a date at first. My friend set me up on a blind date. We ended up talking on the phone and liking each other. I said 'Let's just go get some lunch,' and then it was a date. We went to the Cheesecake Factory.

Anwar: You had Cheesecake money back in high school?

Michael: No way. My coach was the manager of the Cheesecake Factory and I got everything for free.
How cool would that be if you had a connection to free grub at a quality joint like that growing up?
Some other things Joe learned in the interview, which is well worth your time reading between halves of college football today: Williams once played offensive tackle, was a lethal shot on the Syracuse Orange basketball team, and fans can turn to Williams with cell phone problems as he had a job working cell phone technical support.