"We Didn't Feel Helpless"
September 26th, 2010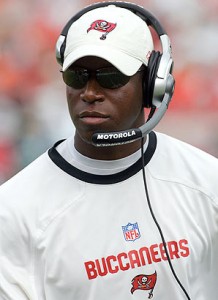 For one reporter at Raheem Morris' postgame news conference, it seems today's 38-13 beat down from Pittsburgh conjured up memories of the Bucs getting clobbered last year at home by the New York Jets (26-3) and New York Giants (24-0).
Morris was asked if today's game had that Jets or Giants feel to it. In his response, he gave a glimpse into just how low the Bucs were in 2009.
"No. We didn't feel helpless [today]," Morris said, referring to last year's losses.
The head coach went on to say the Bucs are keeping the "big picture" in focus, meaning the fact they are 2-1 and have time to assess their performance and improve with a bye week next Sunday.
"It's a great time for all of us to get together and bond and be one, and not let anything tear us down for the next two weeks and get ready to go play Cincinnati at their place on their home turf and get a win and close out the first quarter of the season," Morris said.
Joe knows "We didn't feel helpless" doesn't represent improvement to feel good about. But really, all that matters at this point is the Bucs' response in two weeks.