Steelers-Bucs Lowlights
September 26th, 2010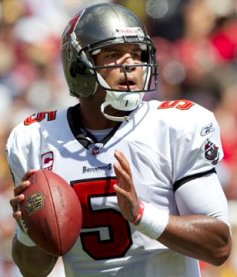 Yeah, Joe's bummed too. That doesn't mean he is going to blow off his responsibilities.
Below are the Bucs lowlights of the loss to the Steelers today, the first time this season the Bucs have tasted defeat. Lowlights courtesy of the good people of the NFL Network.
LeGarrette Blount's first NFL touchdown and the only touchdown for the Bucs.
Cody Grimm and Ronde Barber stop a fourth down Steelers attempt.
Connor Barth nails a 40-yard field goal.
Aqib Talib picks off a Charlie Batch pass.
Kellen Winslow makes a sick catch of a tipped pass.
Bucs coach Raheem Morris and Josh Freeman react to the loss.