Rookie Tackles Getting Job Done
September 19th, 2010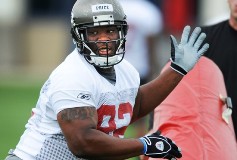 No, the rookie defensive tackles didn't get any sacks. But that doesn't mean they didn't make an impression. In fact, it was two big plays by the Bucs defense that was created by the two rookies.
In the third quarter, with Carolina having a 3-11 deep in their own territory, Quincy Black flew in from the left side on a stunt and buried Carolina quarterback Matt Moore. But it was GMC that made the play. On his stunt to the left, he drew so many Panthers blockers it left a wide open lane for Black to run through and drill Moore.
Bucs ball.
But the play that may have been the game's most important came late. With punkish rookie Panthers quarterback Jimmy Clausen leading Carolina inside the Bucs-5 and fourth down, Brian Price clogged up traffic in order for Geno Hayes to come in and make his second big play in a row, killing Carolina's comeback.
So the rookies aren't making splash plays, but they are making solid fundamental plays that lead to stops. Often, those are as important if not more so than sacks.