Remember, Bucs Game At Midnight
September 12th, 2010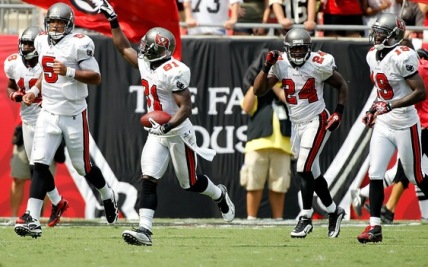 For those less-fortunate who didn't go to the game nor went on the wildly successful Blackout Tour —  you just don't know the fun you missed! — Joe has a reminder and perhaps a big surprise.
As earlier reported, NFL.com will have a rebroadcast of the Bucs win over Cleveland at midnight. The game will be available to watch at any time for a 72-hour window.
But that may not be all.
Per Joe's scheduling grid on DirecTV Channel 705, it appears at midnight, and rebroadcast several times throughout the next 24 hours, will be a 30-minute condensed version of the game. This is not listed on DirecTV's schedule grid on its Web site so Joe isn't sure this is some programming error on DirecTV or not but just a heads up,  it may be a nice little surprise.
And a reminder, the Blackout Tour Web site is taking reservations for all future home Bucs games at BlackoutTour.com. Reservations are fully refundable in case of a lifted blackout so don't be left out in the heat cold and get on the bus!
Today was a thorough blast!