Raheem On Winslow: "You Know, He's A Soldier"
September 6th, 2010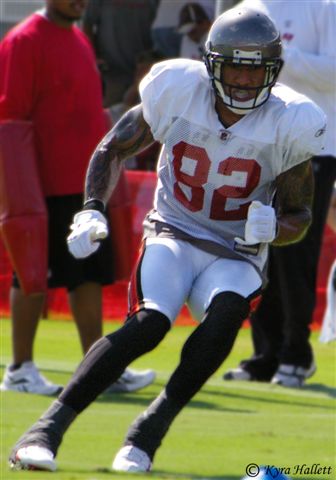 Last year Joe promised Kellen Winslow that he'd stop calling him "Sgt. Winslow," and Joe has honored that.
Winslow didn't like Joe's the backhanded reference to his famous "I'm a fuc*'n soldier" rant to the media during his college days. And Winslow looked Joe in the face and asked him to cut that out.
Joe obliged, and Joe's promise became a national story on The Jim Rome Show and other major media outlets.
However, it seems Winslow's head coach didn't get the memo.
Raheem Morris called Winslow a soldier today (obviously intentionally) during his news conference. The Bucs' defensive mastermind/head coach was responding to a reporter asking him whether Winslow would have extra motivation going against his old team on Sunday, the Cleveland Browns.
"You know, I don't want to BS you, so I won't. But I'm sure he does have some fuel. I'm sure he has something hidden away. He has some article stowed away somewhere, or something that was said negative about this young man," Morris said. "And, you know, but that's what gets him going. That's who Kellen is. You know, he's a soldier. He goes out. He prepares. He practices. He plays. He loves the games. He'll use anything for motivation, because that's the kind of guy he is. He gets motivated to come practice against my defense every day."
For those unfamiliar with Winslow's famous soldier comment, below is what the Bucs' head coach is referring to. It's a classic.