Raheem Is "Proud And Impressed"
September 24th, 2010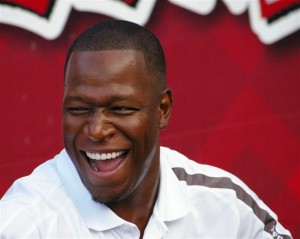 There have been times during the Raheem Morris regime when the Bucs' head coach has been critical of his team's practice habits and intensity.
Right now, it seems like that's old news. Maybe winning changes things. The Bucs have won four of their last five.
The Bucs' defensive mastermind/head cocah showed a very confident demeanor during his news conference today, talking about the maturity of his young team. 
"Proud and impressed with our preparation this week," Morris said. "You can see the guys developing and growing, even on the practice field."
Joe is pulling what's left of his hair out at this point, waiting for kickoff on Sunday. This game is no doubt the biggest the Bucs have played since the December collapse of 2008. 
A "W" Sunday, by any means, lets the Bucs ride an extraordinary high for the next two weeks, one that could transform the franchise. If you're not out of your mind fired up for this Steelers game, Joe suggests you call your physician.