Cody Grimm Speaks
September 24th, 2010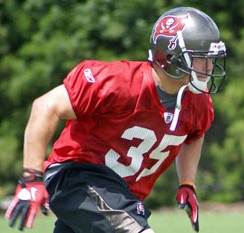 Thursday, newly minted Bucs starter, rookie seventh round draft pick Cody Grimm, appeared with Joe's good friend the dean of Tampa Bay sports radio, "The Big Dog," Steve Duemig, of WDAE-AM 620, to talk about his good fortune. Of course. Joe jotted down notes on the interview for Joe's readers.
Steve Duemig: It's going to be exciting for you.
Cody Grimm: Definitely, going to be exciting.
Duemig: Do you have to play special teams, too?
Grimm: I'm pretty positive I have to play both. That's nothing different. I did that in college, I played all special teams [and starting linebacker].
Duemig: That means you are special because special teams is so special at Virginia Tech. Will your football knowledge make up for lack of experience?
Grimm: Yeah, I'm definitely confident. Football is football, yeah. This is obviously a different level but if you put in the right preparation it will make up for experience. Sure, there will be things you learn but if you put in the hard work and the knowledge of what you are doing, you can make up for [experience].
Duemig: Are you doing anything different to get ready?
Grimm: The preparation at this level, it's a job. You have to be prepared to be a starter every week. Only thing different is the number of reps you take at practice. I'm studying the same. It's the same as you treat every week.
Duemig: Were you shocked about TJ? [Tanard Jackson was suspended by the NFL for a year due to failing a banned substance test.]
Grimm: I didn't find out until I left [Wednesday]. The team is disappointed. It stinks we will not have Tanard. I will do my best to fill in for him.
Duemig: Are you guys treating this like a season-ending injury?
Grimm: Every team faces adversity. It stinks when it happens but you have to move on.
Duemig: You ever imagine being a starter in your first year as a seventh round draft choice?
Grimm: The way Tanard plays, not exactly. But in the NFL people go down each week, it's pretty ridiculous how physical it is. You see how many people go down in just a short amount of time here. You are one snap away. I am ready to go and I'm excited.
Duemig: Judging by what you said, physically, were you in awe at the beginning?
Grimm: Oh, yeah. There are a lot of big, strong people up here and something has to give. It seems [injuries] seem to happen quite a bit.
Duemig: How did you learn of the news?
Grimm: They just told me this morning when I got in that I was going to start. They told me to be ready to go. I was told by [Bucs defensive backs coach Jimmy] Lake earlier that I was going to be the second string free safety so I had to be ready.
Duemig: What do you expect with the Steelers?
Grimm: The Steelers are a smashmouth team. They love to run. They love run first. So you have to be strap on the pads and be ready for that.
Duemig: Did you tell your dad? [Grimm's father is Hall of Fame offensive lineman and current Arizona Cardinals offensive line coach Russ Grimm.]
Grimm: I haven't had the chance yet, but I am sure someone told him.