Offensive Line Really Isn't That Bad
September 29th, 2010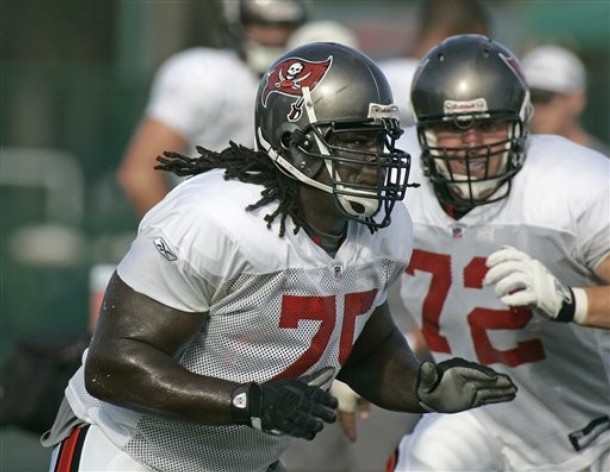 Joe has stated this so often he's tired of reading his own words: The Bucs' running backs are at best, mediocre.
Many Bucs fans gasp in outrage whenever Joe writes this as if he's dropping a load in the middle of Sunday morning Mass. Bucs fans, understandably, think of Earnest Graham and Cadillac Williams like a comfy Teddy Bear. Joe loves both of these guys, too, but sadly, the numbers don't lie.
The Commissioner, aka Justin Pawlowski of WDAE-AM 620, also is of the belief the lack of a Bucs rushing attack is not the fault of the line. Writing on his blog, Pawlowski came away impressed with the Bucs offensive line against arguably the best defense in the NFL last Sunday.
The offensive line isn't as bad as most people think. Going against one of, if not, the toughest defenses in the NFL, I actually thought the offensive line played ok.  After seeing the way Blount ran effectively, I'm starting to think that it's the RB and not the offensive line that's the problem.  Cadillac's a good story, but he's not a good RB.  That's on the coaching staff to realize that.  As for pass protection against one of the best pass rushing defenses in the NFL, I thought Freeman was getting as much time as he was going to get.  Freeman held onto the ball too long at times which lead to a couple sacks.
Joe believes the running of LeGarrette Blount, a guy who doesn't even know the playbook, may have finally opened the eyes of Bucs fans.
The holes are there for people to run through. And even if there aren't holes, as Marshall Faulk has stated recently on the wonderful NFL Network, good running backs can overcome bad offensives lines.
The Bucs' offensive line is not bad.