Kellen Winslow Talks Bucs
September 21st, 2010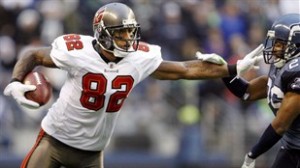 Bucs tight end Kellen Winslow appeared on Sirius NFL Radio's "The Blitz," co-hosted by Rich Gannon and Adam Schein earlier today. Joe scribbled down the interview.
Rich Gannon: This Bucs team must be feeling really good right now?
Kellen Winslow: We have grown up a lot. We're only going to get better. We have a lot of confidence. We're a young an energetic team and we're having a lot of fun out there.
Adam Schein: I was one of many who thought this would be a bleak season [for the Bucs]. Where did you get the confidence in this success that someone like me didn't?
Winslow: With a guy like Raheem Morris, he's an easy coach to play for. He gets on you both good and bad. He wants you to get better. To have a coach like that, he prepares us to get ready and that's where the confidence comes from.
Gannon: How tough was last year?
Winslow: It was really tough. It was frustrating, coming from Cleveland, I wanted a new start. We got a new coordinator, you could tell we were getting on the right page and it built confidence for the following year and now you see it.
Schein: How bad did you want to beat the Browns?
Winslow: I did, I did. They are just another team and it's your job but when you are released or traded or cut, you have a little vendetta against your former team. I'm lucky to be in Tampa. I couldn't be playing for a better team.
Gannon: Tell us about Raheem Morris.
Winslow: He is calling the defense now. He has guys ready and rolling and they are showing how fast they are. They are energetic and causing chaos. He is the best coach I have ever been around.
Schein: Wow, elaborate on that.
Winslow: He has guys ready. He knows what he wants. If it's not the right decision, he will [change] but he is usually right. It's so easy to play for a guy like this. He keeps you going every day.
Gannon: Not many people realize that Freeman is playing with a broken thumb and it's painful. Talk about the improvement from Freeman.
Winslow: There is so much stuff that goes on, it's hard to concentrate on someone else that you don't even notice it. [Freeman] continues to get better and you don't have to tell him much anymore. He's responsible for the protection and he and Faine and the offensive line are working well together. It will only get better with him but there's a lot of upside with that kid.
Schein: Do you see similarities between Freeman and Ben Roethlisberger?
Winslow: Oh yeah, the way they are able to escape and make plays downfield. I would say they are pretty identical.
Gannon: Mike Williams, tell us about how great he is.
Winslow: Mike Williams is going to be good, man. We have some good receivers but he sticks out. That's what we need to take the pressure off of our running game.
Schein: What kind of a teammate is Mike Williams?
Winslow: He will be fine. He just needs to learn this is not college but a job, an everyday job. He just has to be consistent. The young guys have to learn from the vets, how to take care of their body, how to study the game, how to watch film, all of that pays off in the end. He will be fine. We have vets around him who are leading the way, even Sammie Stroughter is helping him. That's how young we are. It's so much fun. He will be fine.
Gannon: How are things changing for you? Are you adding more responsibilities, trying to be more of a leader?
Winslow: I have. It's more what is not said than said. The way you prepare yourself, the way you prepare in the film room, how you take care of your body. It's more unsaid than said. Coaches will have them ready. I just have to lead by example.
Schein: You didn't practice last week but you played well in the game [against Carolina]. How is the knee?
Winslow: It's still OK. It's just taking the toll of the season. The team decided [last week] to rest me and I had to get an OK and an MRI. Practicing would have made it worse but I'm not going to let my teammates down.
Gannon: Tell us about the Steelers.
Winslow: Coming from Cleveland, I am used to their physicality. They are the best defense I have ever been around. They get after the quarterback and I wouldn't want to play against another guy than Troy Polamalu. I respect the hell out of him. He's a great player. We will be ready.