Kellen Winslow: Mr. Third Down
September 21st, 2010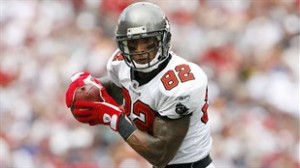 Aside from Josh Freeman Sunday, no Bucs player came up bigger than tight end Kellen Winslow.
Close to not playing at all due to his bum knee, Winslow not just showed up, but played big. In fact, if it's a key down, look for Freeman to hit Winslow, so notes eye-RAH! Kaufman of the Tampa Tribune, written on the TBO Bucs Twitter feed.
Kellen Winslow's 8 receptions have each come on third down, where he leads all NFL players. Not too shabby for a guy on one good knee.
You know what that tells Joe? That Winslow is clutch. If all of your catches come on third down, that's money. That's what All-Pros do.
It's very possible that the success of the Bucs offense depends on the health of Winslow's knee.