Josh Freeman Wins Over Sirius NFL Radio Types
September 23rd, 2010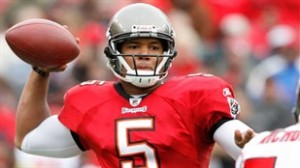 Earlier this week, listeners to "The Blitz," co-hosted by Rich Gannon and Adam Schein, heard exclusively on Sirius NFL Radio, were treated to an interview with Bucs quarterback Josh Freeman.
Following the interview, it seemed Gannon and Schein were smitten with the young Bucs signal-caller.
"Every time I talk to him, I come away so impressed with how intelligent he is," Schein said of Freeman.
Gannon concurred.
"He will be a special player. I think he is a big reason why they are 2-0. He was outstanding against Cleveland and he made big plays in the win over Carolina."