Ed Bouchette Talks To Joe
September 30th, 2010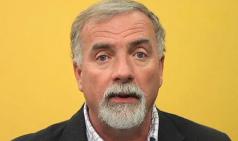 There are few more repsected NFL writers in the country than Ed Bouchette of the Pittsburgh Post-Gazette. Nearing 30 years covering the Steelers, Joe caught up with Bouchette — a great guy — prior to the Steelers-Bucs game Sunday. Joe wanted to get an NFL perspective on the Bucs and there are few better football sources to tap into than Bouchette.
Joe: Was the Bucs 2-0 start a fluke?
Ed Bouchette: No, there's no flukes in the NFL! Were the Cardinals a fluke when they made it to the Super Bowl two years ago? So, no. I like what Mike Tomlin says, "You are what you put on tape." That's what the Bucs have done. Have they been opportunistic? Yes, just like the team they are going to play today. The Bucs have [forced] six turnovers to two. The Steelers have [forced] eight turnovers to two. The Bucs are being outrushed and they are being outpassed but they are winning the turnovers. So, no, I don't think they are a fluke at all. They're a good young team.
Joe: What about this team do you like?
Ed: Without Tanard Jackson today, with Cody Grimm in there, Russ Grimm's kid, it's going to be hard. You know, I don't like their running game. I'm not sold on their offense. I think they have a good, sound, young defense with a good inside linebacker, Ruud. They are a reflection of their coach: Energetic, young. I don't know that they are going to make the playoffs. But hey, 2-0, they only won three last year, they're off to a good start.
Joe: What do you make of their running game? There's a lot of debate about that down here. Some say it's the offensive line. Joe is inclined to say it's the running backs.
Ed: Well, Cadillac has been hurt. He's not the same as he was. That's tough to come back from [two knee surgeries]. I think that's going to be their problem [lack of a running game] and I'm not sure that is something they can overcome this year. That puts pressure on the young quarterback, Freeman. I don't know if they have the passing game like the Steelers had last year to overcome a [sluggish] running game. I would be surprised if they do a whole lot on offense this year.
Joe: So, do you think that next year, this might be a team that the NFL should look out for?
Ed: Oh, definitely. When you are young and you have a good young quarterback — I know the jury is still out on Josh, it's only his second season though he looks like he is  on the right track. If he can progress… we found that out in Pittsburgh that if you have a quarterback, you can do just about anything. You can overcome a lot of other issues if your quarterback is good. That's what the Steelers did last year. They were 9-7 and right in it. Their defense wasn't playing well and their running game wasn't very good and their offensive line wasn't very good. But because of Ben Roethlisberger they were able to stay in the playoff hunt.
Joe: Kellen Winslow said this last year, he called Freeman a black Ben Roethlisberger. Guys on Sirius NFL Radio also compare him to Roethlisberger because of his size, his escapablity and his arm. Do you see any similarities?
Ed: I haven't seen much of Josh. Obviously, they are not on TV much when I'm not covering the Steelers. I just don't see the Bucs on Monday Night Football. But everything I have heard — he's 6-6, 250 already scrambled for 77 yards this year, he has an amazing passer rating. In fact, this morning I was on a TV show in Pittsburgh and [a co-host] called him "Little Ben" I said, 'It's hard to call a guy 6-6 little.' He's an inch taller than Roethlisberger. Everything I hear, he's like Roethlisberger.