Dropped Passes Not "A Factor" For Clayton
September 7th, 2010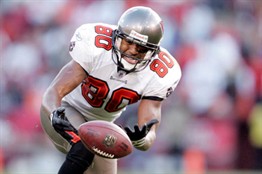 When Michael Clayton was cut by the Bucs this weekend, intrepid Sarasota Herald-Tribune reporter Tom Balog tracked Clayton down for his reaction.
Clayton will forever be remembered by Bucs fans for passes he couldn't get a handle on. Yet Clayton, per Balog, claimed his numerous drops were not "a factor at all" in his release.
The dropped balls were not mentioned to Clayton, by head coach Raheem Morris or general manager Mark Dominik, face-to-face, when they told him of his fate, he said.

"I don't think it was a factor at all," Clayton told the Herald-Tribune on Saturday. "People like to bring up dropped passes and stuff like that. But at the same time, I didn't have a lot of opportunities to make up for those opportunities that I missed out on."
Look, Joe has stated several times before he thinks Clayton is a stand-up guy. But he's not perfect and this is one of those times.
Perhaps, just perhaps, Clayton didn't get chances to make up for missed opportunities is that coaches lost faith that he could make up for those missed opportunities?