Crowder Talks Coaching, Motor, Ink And Penn
September 25th, 2010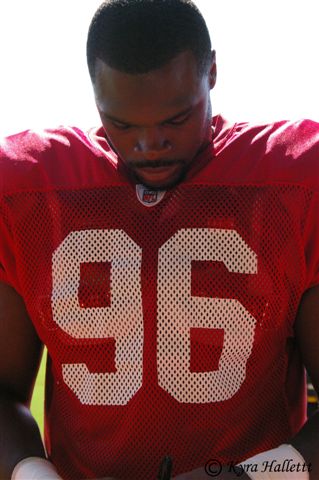 Joe's been a Tim Crowder cheerleader since first seeing him on the field last season.
Raheem Morris called him "The King of Hustle," and Joe is always a fan of guys who play like that in any sport. Crowder brings effort at a different level than most high-motor guys.
Appearing on the Buccaneers Radio Network last night, on WDAE-AM 620, Crowder was asked by host Scott Ledger to name a couple of defensive line coaches who gave him some great guidance and what he learned from them. Crowder took the answer in another direction.
"I actually learned more from than the veteran players than I would say as coaches," Crowder said. "You know, I played with Ebenezer Ekuban [formerly of the Cowboys, Browns and Broncos], you know that's one thing he used to always tell me, 'Bust your tail. Always run to the ball. That's how you make so many more plays.' Once I figured that out … hardly anybody beats their man clean. Guys are too good. If you just keep working throughout the down, you can make so many more plays. Once guys start realizing that in their head, it becomes contagious. If you ask anybody, I practice that every day. I run to the ball, and I'm trying to get the ball out, anything, because that carries over to the game."
Some other nuggets from Crowder:
On Donald Penn: "He's top 5 offensive tackles in the league. I love doing scout team, because I love going up against him every day. Come Sunday it's night and day, because he's that good."
On whether Ronde Barber or Roy Miller has a better shaved head: "Ronde Barber. He shaves his every day. Roy can come in with the chili bowl type of look. "
On the best tattoos on the Bucs: "Brian Price has the best ink in the locker room. … I take that back. [Practice squad offensive lineman] Brandon Carter, he has tattoos on his head."