Clifton Smith Appears Healthy
September 3rd, 2010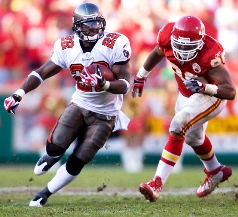 Bucs fans can pretty much lock up Clifton "Peanut" Smith for a roster spot, especially after Derrick Ward was left to fend for himself with a Kardashian, and especially after the way Smith played Thursday night.
Galloping with gout, Smith seemed fresh and 100 percent. A weapon.
More importantly, he never put the ball on the ground, which is a reason why Chucky never trusted him as a running back, and why he got few carries last year.
The Bucs are beginning to have a scary stable of return men. First, of course, is Smith. Then you have (run) Michael (run) Spurlock and Sammie Stroughter, and perhaps Preston Parker.
It's starting to appear as if the Bucs' strength will be its return teams.