Bucs Sign New Guard, Activate Aqib Talib
September 14th, 2010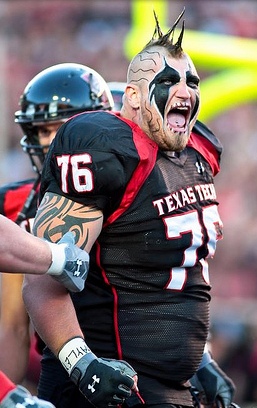 In an effort to reinforce the left side of the offensive line to try to protect franchise quarterback Josh Freeman, the Bucs signed to their practice squad perhaps the best pass-blocking guard in college football last year, Brandon Carter.
The man who likes to paint his face like Halloween each game, Carter, playing for Texas Tech, never allowed a sack to manbeast Ndamukong Suh or his new teammate, Gerald McCoy, while playing for the Red Raiders, so reports good guy Stephen Holder of the St. Petersburg Times.
Texas Tech is in the Big XII conference along with Nebraska (Suh) and Oklahoma (McCoy). Carter was first-team All-Big XII last season and was recently released from the Saints practice squad.
In an exclusive interview with Joe this spring, Carter told Joe the Bucs flew him to Tampa to work him out and to pick his brain about who the Bucs should draft, McCoy or Suh.
Bucs general manager "Mark Dominik, the very last question was, he asks me, 'So, you played against two of the best defensive tackles in the country. If you were drafting, who would you pick, Suh or McCoy?'" Carter said.
Carter answered Dominik's question, but he wouldn't tip off Joe what the answer was.
"That's just between me and him," Carter said. "I don't want anyone to have any hurt feelings out there. One of those guys might be a teammate next year."
Also in the same interview, Carter told Joe that Bucs offensive line coach Pete Mangurian told him "there were three things they like in an offensive lineman: tough, smart and love to play football. They said they can tell from the film I fit all three."
To make room for Talib the Bucs released defensive end Erik Lorig. To create an opening on the practice squad for Carter, the Bucs cut loose punter Brent Bowden.