Barber Used JumboTron To Help In Runback
September 16th, 2010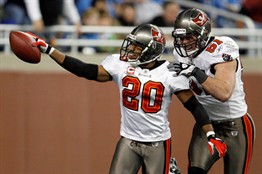 Old man Ronde Barber was on the Bucs radio network last night as the players shows began in earnest (not Graham) this week.
Of course, Barber took a lot of ribbing – good natured of course – from host Scott Ledger and various callers for that piano on his back, which appeared when he failed to house Jake Delhomme on an interception that turned the game around into a Bucs victory against Cleveland Sunday.
Even with that piano, Barber admitted he needed help.
"I was looking at the JumboTron," Barber said, confessing he tried to use the giant replay board in the north end zone to get a better read on who was chasing him and what angle to use.
"Then I tried to kick it into another gear, but I lost that gear about five years ago."
While Barber may not have the wheels he once did, he still has the smarts. Often, that's equally important, if not more so.