Ageless Ronde Barber Keeps Shining
September 19th, 2010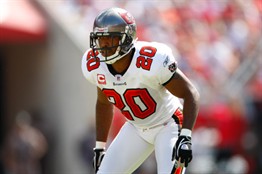 So how about that old fart Ronde Barber? An NFL senior citizen, despite self-admittedly not having that last "gear" to run back interceptions, is playing like a young stud.
He has two interceptions through the first two games of the year. His interception in the first half — again — may have set the tone for the Bucs going up 2-0 to start the season, the first time that has happened since 2005 (Ssssshhhh! The Bucs won the South that season).
Barber, perhaps in his last NFL season (labor negotiations will play a big part in whether Barber returns), is hardly playing like he's in his final NFL season. Guy is playing just as well as he ever did.
When speaking on the Bucs radio network, Ronde, as always, deflected criticism and instead talked about his team, all but admitting the younger Bucs and coach Raheem Morris have him feeling like a reborn NFL player.
Enjoy it Bucs fans. This may be his final season. Already it's a memorable one for one of the greatest players in Bucs history.