Who The Hell Is Calling The Shots?
August 11th, 2010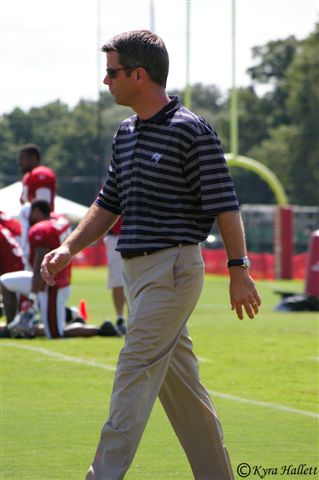 Last year, Raheem The Dream called his boss to discuss whether it was OK to give Josh Freeman his first regular season game action. On the surface that wasn't strange, but the phone call to Mark Dominik was made in the fourth quarter of a blowout loss against New England.
The TV cameras caught it, which raised plenty of eyebrows. And the media demanded Raheem The Dream explain his unorthodox actions.
Now, Raheem The Dream has revealed that in-game chats with him and Dominik are commonplace. In fact, Raheem The Dream said he expects Dominik to call him on Saturday during the Miami-Tampa Bay game to demand personnel changes.
The head coach made the revelation late Tuesday to the dean of Tampa Bay sports radio, Steve Duemig, during a live interview at Bucs practice on WDAE-AM 620.
Steve Duemig: As young as this team is, how hard is it to put them on the sidelines during an exhibition season? …You have a lot of guys you need to evaluate.
Raheem The Dream: Today [at practice]  it was pretty easy. …On gameday it will be a little tougher with Mark upstairs calling me down from the box going, 'let's get him out out of there. You know, Rah.'
Raheem The Dream was not joking and went on to explain that managing preseason reps is a tough balancing act.
Joe thinks Dominik calling the head coach during a game to suggest personnel changes is counterproductive meddling.
There should be nobody more qualified than the head coach to make in-game calls. Why exactly does Dominik not trust his head coach's judgement?
If Raheem The Dream wants to see his first team defensive line get 20 snaps, or if he wants Josh Freeman to play three series with Mike Williams, then so be it. It's Raheem The Dream's ass on the line at the end of the season.
Joe can only imagine what Chucky's profanity-laced reaction would have been if Bruce Allen called him in the second quarter of preseason game and asked him to make a few substitutions.