Raheem Wants "To See If [Huggins] Can Do It"
August 18th, 2010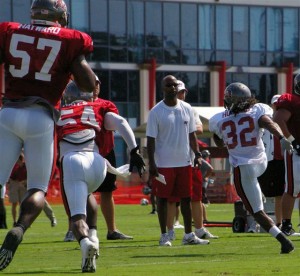 Joe's feels the excitement for running back Kareem Huggins everywhere.
He's quick. He could be the savior. All he needs is a chance. Fans seem to be losing their minds over this guy, who's got no more than few good preseason, second-half quarters under his belt.
Joe agrees that Huggins has earned a shot after being out of football in 2008 and busting his butt with the Bucs last year and in the 2010 training camp.
But that's just the reason Joe is not excited, Huggins has not run behind a first-team line and against first-team defense.
Simply put, he's never done it when it remotely counted.
Raheem The Dream said today that he needs to see Huggins perform when it counts, too. And that might come on Saturday against the Chiefs.
"We want to try to get him out there a little bit earlier to see if he can do it," Raheem The Dream said during his news conference today. 
Joe is pulling for Huggins. He's an easy guy to cheer for.
But Joe just doesn't expect much. So don't expect Joe to go all wild on Huggins if he turns in Derrick Ward-like numbers for his small handful of carries with the first team on Saturday.
And to the guy who keeps e-mailing Joe comparing Huggins to "Mr. August  Earnest Graham," Joe just can't compare Graham, who ran for 1,000 at the University of Florida to Huggins' career at 1-AA Hofstra. Calm down, buddy.