Mike Williams A Star In The Making
August 29th, 2010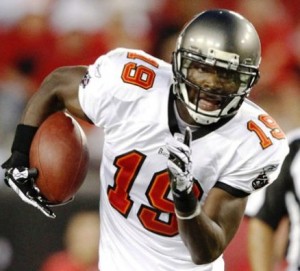 Though Joe apologizes for bringing this slightly dated story, it's still a good read.
Virtually everyone connected to the Bucs, from general manager Mark Dominik to beer-soaked fans, is raving about rookie receiver Mike Williams.
Jason Cole, of Yahoo! Sports, seemed intrigued and visited One Buc Palace to determine why. He came away with information that it isn't just Williams' physical tools that set him apart, but his football intelligence as well.
"I really got the sense of how bright he was when we were going over this one route he ran in college," said Tampa Bay wide-receivers coach Eric Yarber, who added that Williams is one of the best young receivers he has ever had at understanding the technical side of plays from the moment they are shown on a Power Point presentation. "It was an option route, where he could run a post or corner route. The way the safety had him shaded, he should have run a post. But he ran a corner, so I asked him to explain why."

Williams explained that the safety on the other side of the field was shaded to the middle of the field, meaning that if he ran the post, the pass was either going to get intercepted or Williams was going to get hit hard when the ball got there. Either way, the chance for success was limited.

So Williams improvised. Instead of one fake, he gave two, showing the corner route, showing the post and then finally committing to the corner route after the first safety covering him bought the second fake. Touchdown.
Considering the Bucs got Williams in the fourth round, this is an absolute steal for the Bucs and, if injury-free, may become one of the best wide receivers in Bucs history.
But Joe's trying to temper his excitement. It's still August after all.