A Final Thought On Antonio Bryant
August 29th, 2010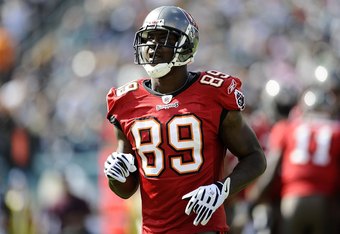 Count Joe among the masses who thought the Bucs should have signed Antonio Bryant this offseason.
Bryant caught 39 balls in 2009, several of the spectacular variety, from three quarterbacks on a dreadful team. And he battled through injuries to play in 13 games. In Joe's eyes, he was a special talent and was easily the best the Bucs had.
For Joe, re-signing Bryant was an absolute no-brainer, under one condition. The same condition that any team or fan would apply to any player, Bryant had to be healthy enough to play at a high level..
Now Joe wasn't so sure the Bucs would deem Bryant healthy. After all, Joe was the only one to transcribe Bryant's "bone on bone" knee description he laid out during an interview on the Buccaneers Radio Network last year. And how one recovers from bone-on-bone issues is surely unclear to Joe.
When the Bengals signed him in free agency, though, Joe assumed the Bengals' doctors knew what they were doing. So Joe slammed the Bucs for not signing Bryant. Sure enough, Adam Schefter, of BSPN.com, tweeted about Bryant's bone-on-bone issues about a month ago as if he had unearthed a revelation.
When Joe saw that, it was obvious the Bengals doctors flat out screwed up.
Mark Dominik made the right move in not signing Bryant. Still, Joe thinks it would have been the right move if Bryant were healthy.
Now Bucs beat writer Pat Yasinskas, BSPN.com beat writer for the NFC South, is trumpeting today that the Bucs should be lauded for passing on Bryant. Yasinskas also is spouting off that the Bengals cut Bryant today for reasons other than his knee, which kept him out of nearly the entire Bengals training camp and preseason.
They cut Bryant in part because he had some knee problems. They also cut him because they realized he just wasn't that good and, maybe – just maybe – because Owens would be a better fit in the locker room.
Joe is appauled that Yasinskas is making such assertions, when his colleague James Walker, who covers the AFC North, follows the Bengals daily and never made such leaps. The archives are all there.
Plus, Joe has never seen such negative conjecture about Bryant in the Cincinnati Enquirer.
Joe thinks its shameful that Yasinskas essentially is putting it out there that Bryant stunk it up in Cincinnati and was a bad apple. Who's your source, Pat?
Joe just wanted to get that out there before Yasinskas' paragraph quoted above is magically deleted without explanation from Disney's website. That's been known to happen on the NFC South blog.