Freeman Expects To Run, Audible More
August 12th, 2010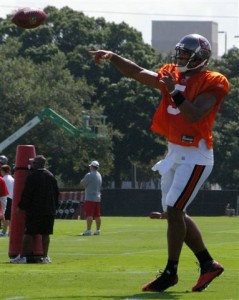 Lucky for JoeBucsFan.com readers, Joe is unlike his media brethren and is not afraid to deliver you loads of Bucs news from Sirius NFL Radio.
It's pretty simple: The NFL has a radio station. It covers the Buccaneers. So therefore Joe lets you know all the great stuff you're missing.
On Wednesday, NFL Radio sent Movin' The Chains hosts Pat Kirwan, Tim Ryan and special guest Bill Cowher to Bucs training camp to spend four hours talking Bucs football and interviewing players, Raheem The Dream and Mark Dominik. For Joe, this was almost as glorious as Rachel Watson asking him to apply sunscreen to 96 percent of her body.
The Movin' The Chains crew got hold of Josh Freeman and hit him with a pile of Xs and Os questions. For those not used to down-and-dirty football interviews with Buccaneers players, prepare to be aroused.
Bill Cowher: Do you have some leeway now in this offense? Do you feel like you have a good grasp of it. The ability to maybe check plays based on what your seeing. How do you feel about all that?

Josh Freeman: Yeah. No doubt. Starting out when I first got in last year, I mean the checks were very minimal. Later in the year they started opening up a little more, putting some alerts on certain plays. And giving me the opportunity to audible versus certain looks. But I mean this year, it's like, 'hey, if you see it, and you're 100 percent sure, go with what you feel is best.'

Cowher: Have you practiced a lot of one-minute drills already in this camp?

Freeman: Oh, yeah. Definitely. I feel like that's an area where I thrive because I get to go out and I get to call the plays. I understand we've only been going against our defense so far. But I mean I understand what our defense tries to do in those hurry up situations. … Ask Raheem, they haven't stopped us yet.

Pat Kirwan: Talk about protections. Are you invovled with calling them.?  Is Jeff Faine handling it? How are you involved?

Freeman: Last year Jeff Faine was 100 percent or nearly 100 percent calling the protections. But this year they're putting a lot of that on my shoulders. …From a quarterback's perspective, being able to read the secondary players, the rotation a little better, I mean the majority of the protection calls are falling on my shoulders.

Tim Ryan: That's got to help you in the 3rd-and-3-to-5. We all look at situations. ..That's a manageable area. That's what you want. You guys have to get better there.

Freeman: No doubt. Our stats in 3rd-and-3-to-5, they were terrible. They were bad. There's no hiding that. But it's definitely an area that we put a lot of emphasis on in OTAs and also early on in camp. So I can see us improving and being dramatically better in that phase.

Ryan: Do me a favor? Can you use those big legs and run the rock this year? Because I think that's a big, big asset that wasn't probably utilized enough. Ask [Cowher and Kirwan], they know a quarterback that uses his legs, you're going to change coverages and do other things because you have that threat from the waist down.

Freeman: No doubt. We catch a lot of man-to-man, but hopefully we won't see as much this year because those young receivers are able to do a lot of things. But I like seeing two-man, and we really didn't see a whole lot two-man. …But this weekend Miami has shown a lot of tendencies with their new defensive coordinator …they play a lot of two-man in a lot of third down situations. So look for me this weekend to take off a couple of those times. Yeah, if it opens up I have no problem with running. 

Kirwan: Winslow, can you feel his routes when you see him down the field in a stem? Can you tell what he's going to do on a Y choice?

Freeman: Oh, yeah. Kellen does an excellent job. I mean there's no indecision about what he's doing. I've worked with the guy enough. You can tell all his moves, which one's kind of a fake, which one's kind of a stutter going that direction. But he finds a way to find those open areas.
Ahhhhh, the joys of Sirius NFL Radio. Of course, Joe will have more for you today and tomorrow.
Joe's nervous about Freeman's increased responsibilities. They'll make him a better quarterback, but also probably lead to more mistakes.
All part of the painful process of building a "lasting contender."