Derrick Brooks, Bucs Reunite To Say Farewell
August 12th, 2010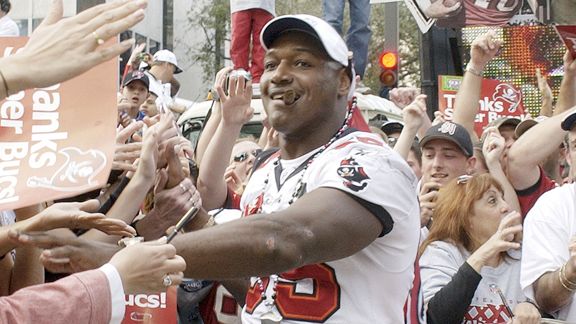 While Joe was watching the mini-Bucs reunion last night on Pros vs. Joes, it saddened this Joe to watch Derrick Brooks lower himself to this level.
Suiting up for a fake football exhibition where a couple of clowns who couldn't even play football in a BCS conference school much less stick on an NFL practice squad heaped tons of verbal abuse on guys like Brooks and Warrick Dunn. It was a stunt more fitting for someone like Lawrence Taylor.
Not Derrick Brooks.
At least today, a guy like Brooks will be on a much more dignified stage: at One Buc Palace where he and the Bucs, bad blood set aside, will celebrate the career of one of the greatest linebackers to play in the NFL and perhaps the best player to wear the Bucs uniform (no worse than second-best).
Some 18 months after he was thrown to the curb like a used cheeseburger wrapper, Brooks and the Bucs have patched things up. Raw nerves have healed. Brooks is back in the Bucs family writes Joe Henderson of the Tampa Tribune.
"The thing I'm impressed with is that Derrick has been able to let go faster than I was," Lynch said. "I had wounds that stuck with me a little longer. I had a chip on my shoulder in Denver, and that bothers me to this day. I wasn't motivated to just play good football there; I wanted to show certain people I still had something left.

"When the Bucs released Derrick I'm sure it burned him inside, but he was able to let it go and understand it was a business decision. He is at peace."
That is the image, aside from the player, Joe will always have of Brooks: not some guy lowering himself so a couple of wannabe punks act hip and talk trash for a cheap payday to a dignified man of Brooks' stature.
No, Joe will remember a man who is big enough to forgive others' sins on a very public stage.