Clifton Smith Was Hurting For Nearly Two Months
August 27th, 2010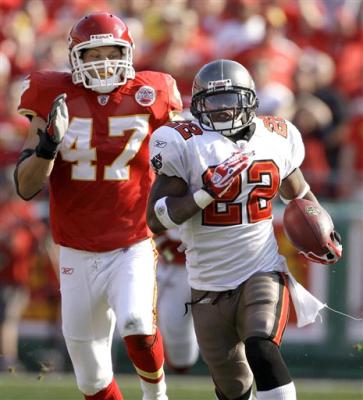 Most Bucs fans are aware that Clifton Smith sat out the first two preseason games with problems stemming from gout-like inflammation.
But now Joe has learned, via a Woody Cummings feature on TBO.com, that Smith struggled for almost two months.
That's why Smith didn't think much of it the first time he nearly collapsed in pain while trying to roll out of bed a couple of months ago.

"I figured it just came with the territory of playing football," said Smith, the Buccaneers' return man.

"You know, you're just real sore and everything. But then it wouldn't go away. That's when I knew something was wrong."
That's a long time to be hurting, and it's now clear the Bucs didn't get any kind of real look at Smith in training camp, on the heels of ugly concussions that shortened his 2009 campaign.
The Bucs are really in a tough spot with Smith. He's a great returner with a fragile melon, but he's never proven to be a legitimate running back and the Bucs are loaded with talent in the return game in Sammie Stroughter and Micheal Spurlock.
So many combinations at play here for the Bucs' final decision on Smith, as well as with Spurlock and Kareem Huggins.
If Smith shows he's still got it as a returner on Saturday, and he runs the ball well in the second half, where does that leave Kareem Huggins? Suppose Huggins takes a half-step backwards Saturday? If Derrick Ward looks sharp on Saturday, where does that leave Huggins  and/or Smith? How does Spurlock factor in if he makes more plays in his limited time?
Sadly, Smith probably makes everything very easy for the Bucs if he has a crappy game Saturday.
Joe's hoping everyone plays well Saturday, which would probably signal the end of the line for Spurlock.