A Seventh-Rounder Would Be A Steal For Stovall?
August 27th, 2010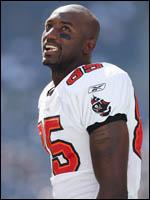 There's an esteemed Bucs beat writer who emphatically states that Mark Dominik would be worthy of leaguewide accolades if he traded Maurice Stovall for any draft pick.
Joe is dumbfounded.
Stovall is a dynamite special teams player on a dynamite special teams unit. And Joe knows that Stovall caught more balls (21) from Josh Freeman than any other Bucs wide receiver in 2009, meaning the two have some chemistry.
Yet Pat Yasinskas, of BSPN, thinks the Bucs would be pulling off a coup if they got next to nothing for the 25-year-old. Yasinskas explained in his Thursday mailbag.
Michael in St. Petersburg, Fla., writes: There is constant talk of receiver competition with the Bucs and trade talks. With Minnesota hurting a receiver could we send one there for a late-round pick?

Pat Yasinskas: Minnesota traded cornerback Benny Sapp to Miami for receiver Greg Camarillo on Wednesday. For the Bucs, Mike Williams, Sammie Stroughter, Arrelious Benn and Reggie Brown are pretty much guaranteed roster spots, and there's no way the Bucs are shopping any of them. That basically leaves Michael Clayton or Maurice Stovall. If the Bucs could swing a draft pick (and I mean any draft pick) for either of those two guys, Mark Dominik instantly gets my vote for NFL Executive of the Year.
Joe just doesn't get it. Dominik would be nuts to dump Stovall for a throwaway draft pick. As for Clayton, as Yasinskas mentioned, that would work just fine.