Bucs Using Raheem To Inspire Ticket Sales
August 21st, 2010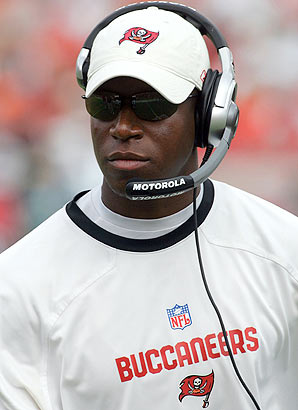 Joe's not a senior vice president of marketing at some highfalutin Fortune 500 enterprise, but Joe has a pretty good track record of results.
Today, a little bored in the rain, Joe happened to buy an old fashioned news delivery item, aka a newspaper. Now Joe rarely reads these filthy handheld products, but a Tampa Tribune story about rampant illegal political signs (a major pet peeve of Joe's) got Joe's eye, so he forked over the 50 cents.
On Page 3 of the sports section, Joe was stunned to find a full page color advertisement for Bucs' regular season tickets featuring a massive, half-page photo of  the Bucs head coach with big bold lettering "RAHEEM MORRIS" across the middle.
Then, at the bottom of the page, is ticket information for the Sept. 12 home opener.
Now the Bucs ticket sales mavens and the esteemed Glazer family leaders must know that many serious Bucs fans think Morris is an absolute joke of a head coach. And the casual fan perspective of him is surely one of an inexperienced young coach coming off a 3-13 season riddled with troubling decisions.
And this guy is supposed to sell tickets? "RAHEEM MORRIS," so it reads in the Tribune ad.
His face and name is supposed to inspire the credit card to come out of the wallet and get fired up?
Please.
Nobody buys tickets to watch a game because of a head coach unless it's one of the tiny handful of big name coaches with huge appeal. The Bucs' defensive mastermind isn't that guy. And he's not going to help ticket sales right now.
Joe wants these blackouts to go away fast. They're horrendous for the community.
Marketing the head coach before he wins games is not going to cut it. The Bucs' marketing people must have been dreaming.