Trueblood Claims Monday's Incident Is Fiction
July 7th, 2010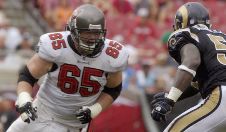 Joe has had many posts today about Bucs right tackle Jeremy Trueblood being arrested last night for public drunkenness, and per a police report, being "belligerent" in a convenience store.
Trueblood said that's all nonsense.
Texting to Woody Cummings of the Tampa Tribune, Trueblood claims he was not in any store last night.
"Oddly enough, I never stepped in a gas station, or out of my passenger seat till they made me," Trueblood said in a text message sent to The Tribune this afternoon.

Trueblood, who has started 61 consecutive games for the Bucs, was held in the Hancock County Jail after Greenfield, Ind. Police said he and another man riding in a car driven by Trueblood's mother became belligerent during a traffic stop.

"They were locked up for failing to cooperate and for public intoxication," Maj. Derek Towle of the Greenfield Police Department said of Trueblood, 27, and Benjamin McKenny, 26.
Ironically, Trueblood had a few drinks at a golf outing and called his mom for a ride home.
Now this is an interesting set of circumstances. The cops claim a store clerk called 911 because Trueblood was out of hand in the establishment. Trueblood claims he wasn't in the store.
Easy enough to solve: Pull the surveillance tapes.
Oh, and Trueblood's agent said he was not arrested, again per Cummings. Hhmmm. So cops in Indiana have S&M fetishes and cuff people off the street for no good reason?