After Drinking, Trueblood Called Mom For A Ride
July 7th, 2010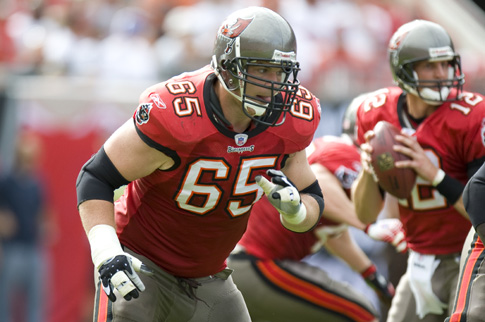 Remember when you were young and mom told you whenever you got into trouble to call her?
Well, Bucs right tackle Jeremy Trueblood, being the good son he is, did just that. While he wasn't in trouble — what's wrong with a few drinks? — Trueblood called mom for a ride, which is what precipitated Trueblood getting thrown into a cage last night, writes Stephen Holder of the St. Petersburg Times.
Ironically, the incident started with what was a wise decision from Trueblood. After playing golf at a local course, he and McKenny became intoxicated and decided not to drive home in that state. Trueblood called his mother, Wanda, to drive them home, according to police.

On the way, they stopped at a local gas station, and that's where Towle said the problem initiated. The clerk there called police, accusing two customers — said to be Trueblood and McKenny — acting disorderly. The clerk said they were knocking items off shelves, throwing cup lids and bumped into a woman holding a small child.

When the clerk saw them get into a car and drive away, he reported a possible case of drunk driving. An officer was dispatched and stopped the vehicle, though it was determined by officers that Trueblood's mother was not drunk.
Props to Trueblood for being responsible. Joe's impressed.
And let this be a lesson to all those young, budding partiers in Joe's reading audience: You're never too old to call mom!