Raheem's Not "Nervous"
July 30th, 2010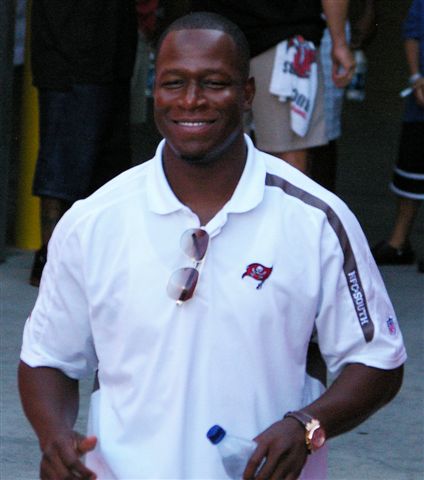 Man, Joe is fired up for training camp.
And Joe is fired up to have Raheem The Dream back in front of the microphone. What a treasure he is, so darn entertaining. (Joe will have more gems from Raheem The Dream's afternoon news conference later.)
First off, Raheem The Dream took a question from a reporter who asked about the prospect of Demar Dotson or James Lee as his starting left tackle, "Are you nervous at all?"
Here's Raheem The Dream's unedited response:
"Nervous is not a word that I would normally use to describe anything that I do. But, you know, you look at that side, no matter what, no matter who's over there, that's the hot corner, that's third base, that's a great place to look if you're a defensive coach looking at your offense. Your quarterback's blind side. How well he's protected. You know, how great those cutoff blocks are. How big that man is out there. He's probably the premier rusher on that football team. That's always a nice place to start to see the initial get off. That's always a nice place to start when you're reporting a story. That's always a nice place to start usually when you're trying to figure out how well the offense is going to do that day. So I'll be watching that side. Just like normal. I'll have my eye over there. We have got a brand new player there that played there for the whole OTA days. The beauty of it is he got all the reps. The beauty of it it won't be a lack of knowledge. It won't be a lack of experience in practice. And we look forward to watching him grow and do all that stuff."
For those who need a translation (or a bottle of aspirin), the head coach said left tackle is extraordinarily critical and he's extremely well aware that Dotson and Lee have no experience.