Pressure!
July 24th, 2010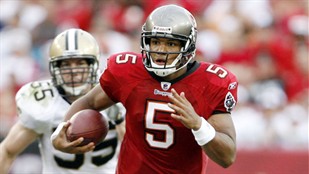 There are quite a few Bucs that should be concerned about their immediate futures. Linebacker Barrett Ruud, for example, is in the last year of his contract amid rumblings from some circles that he's not an elite middle linebacker.
Cadillac Williams may be under a little pressure, as the jury is still out if he can get through another season on his reconstructed knees.
So Joe found it a bit surprising that Jason Cole of Yahoo! Sports, in a list of NFL players under the most pressure, has included Bucs quarterback Josh Freeman.
20. Tampa Bay Buccaneers, QB Josh Freeman

In Detroit, Matthew Stafford showed people enough that the fans are starting to believe they finally have an answer at quarterback. Same goes for Jets' Mark Sanchez. As for Freeman, the third of three first-round picks in the 2009 draft, the Bucs did a good job to get Freeman 10 games of action last season, which he desperately needed. The problem now is that the Bucs haven't done as good a job as the Lions and Jets of surrounding their young QB with offensive talent. That means that Freeman (and the Bucs fans) must be patient. Fortunately, Freeman is a kid with his head on straight and has a good family foundation to get him through tough times. But there's no question, it's going to be a test.
Joe is surprised by this. While Cole is absolutely correct in that Freeman doesn't have much to work with (this year) as Stafford and Sanchez, in Joe's eyes this doesn't or shouldn't put any pressure on Freeman.
It's not like anyone is expecting a playoff run this year. So why should there be any pressure on Freeman? Greg Olson, yeah, he should be under pressure if Freeman doesn't progress.
Freeman shouldn't be under any pressure this season.