Mark Dominik Smart In Donald Penn Saga
July 29th, 2010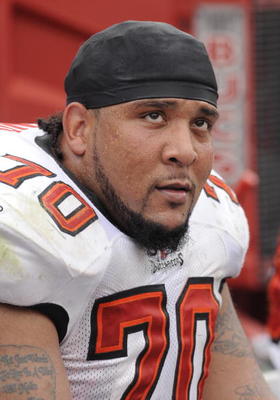 By STEVE CAMPBELL
JoeBucsFan.com analyst
Steve Campbell from time to time writes a column for Joe, often dealing with the offensive line. Campbell once upon a time in a different life was an offensive lineman on a prominent BCS college team.
With the Tampa Bay Buccaneers 2010 training camp set to open this weekend, there are plenty of things to look forward to. One thing Bucs fans may not be looking forward to is the blindside protection of franchise quarterback Josh Freeman by a converted basketball player who has never started a game.
While the physical attributes of Demar Dotson (6-9, 315) are definitely intriguing, throwing an inexperienced player in at left tackle is suicide in the NFL. And that is exactly what is staring in the face of the Buccaneers right now because of the situation with Donald Penn and his contract.
Penn is not expected to be present Friday when the rest of the Bucs report. The left tackle skipped the entire offseason workout program. He was tendered as a restricted free agent for $3.168 million and when the June deadline passed, the Bucs reduced that offer by $100,000, the most they were allowed to slash it.
The impression I get from the Bucs fans, is that the Bucs are being "cheap" and they ought to break the bank on Penn, because he is a "great" or above average player at a premium position. Unfortunately, when I watch tape of Penn from last season, I don't see a great or even an above average player.
Looking back, the Buccaneers have had some really poor players manning left tackle. I'm old enough to remember Ed 'Too Tall' Jones and Harvey Martin abusing Gene Sanders in the 1981 divsional playoff game in Dallas. From 1988-1999, the Bucs had a very good left tackle in Paul Gruber. Had he not played on such poor teams, Gruber would have been a more household name, but he was more than solid every year he played here. Since, it has been really bad.
Pete Pierson and George Hegamin took turns playing there in the 2000 season. The Bucs then drafted Kenyatta Walker in the first round in 2001 and actually tried to make him a left tackle in his rookie year, even though he played right tackle all three years in college. 
Roman Oben played decently there in the Super Bowl season of 2002 and just average in 2003 before he was on his way to San Diego. The 2004 season brought us the failed Derrick Deese experiment. In 2005 and 2006 it was (gulp) Anthony Davis. Luke Petitgout signed a big deal in 2007, but he hurt his knee in the fourth game and was done for the year.
Which brings us to Penn.
Penn has been the starting left tackle since the fifth game of the 2007 season. Initially, Penn played pretty well for an undrafted free agent with little to no experience. In the first half of the 2008 season, Penn along with the other members of the offensive line, played above average football. The line as a whole regressed as that season went on, and they carried their below average play into the 2009 season. In particular, Penn's play has regressed over the last couple of years. In both 2008 and 2009, Penn has noticeably gained significant weight in both seasons. Penn was reportedly over 360 pounds at the end of the season.
I'm not a huge fan of statistics to value offensive lineman, but unless you're watching game film, that's all you have to go on.
Two websites, ProFootballFocus.com and FootballOutsiders.com do a nice job at breaking down the offensive lines. Here's what I discovered about the Bucs left tackle holdout: Penn only gave up five sacks in 2009, which is dead middle of the pack for all offensive tackles. But where it gets ugly is allowing quarterback pressures, allowing quarterback hits, and penalties. Of the 75 offensive tackles listed, Penn was ranked 66th, 63rd, and 67th respectively. As a team, the Bucs had the highest yards-per-carry average when they ran off left tackle and around left end. So, Penn is underrated as a run blocker, but way overrated as a pass blocker.
Forgetting all the statistics, I definitely side with the Bucs in this debate.
I don't really want to invest in a player long term who has the propensity to gain weight as the season goes on. What does it say about a player who gains 60 pounds in a contract year? How much weight would he gain once you broke the bank on him and signed him to a long term deal? Is he really a great left tackle? Sometimes I think we've been blinded by so many bad players at that position in Tampa that we think average is great. I keep hearing that we're going to get Freeman killed. Can Dotson or Xavier Fulton do much worse than 63rd on allowing quarterback hits?
The numbers say Penn is an average player. I think Bucs general manager Mark Dominik wants to see Penn play a whole season at 320 pounds and play well, before he does the long term dance with him.
With outstanding left tackle prospects Gabe Carimi (Wisconsin) and Anthony Castonzo (Boston College) lurking in the April 2011 draft, and the potential for the Bucs to be drafting in the top 10, Penn may want to re-think his stance.