Donald Penn Trade Proposed On NFL.com
July 30th, 2010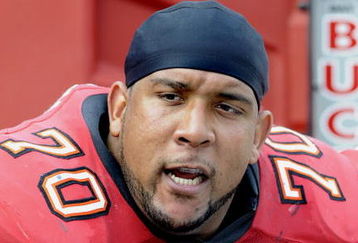 Longtime player personnel executive and now superanalyst for NFL.com and NFL Network Mike Lombardi has identified three should-happen trades that would benefit all NFL teams involved.
No. 3 on his list is the Bucs moving Donald Penn to Dallas for the Cowboys' 2011 first round pick and their new starting left tackle, Doug Free, who is slated to take over for Flozell Adams this season.
The Cowboys have an outstanding team — a Super Bowl-caliber team — with some slight concerns at left tackle. Penn would solve those problems by giving Dallas a blue-chipper at one of the game's most important positions. Penn could be the missing piece for the Cowboys to reach the Super Bowl in 2011. They can easily extend his contract by giving him a deal in line with D'Brickashaw Ferguson's recent extension with the Jets.

The Bucs would gain a first-round pick next year and would still have a potential solid starter to help them protect Freeman's blind side this season. They can sell this trade to their fan base by saying this was a concept deal. Trade a proven asset that was not going to re-sign to a proven contending team and invest in the future.

The Bucs save money, build for the future with a draft asset, and Dallas get its missing piece. For the Cowboys, trading for Penn is a luxury they can afford.
There's quite a bit more to Lombardi's story, in which he questions Mark Dominik's power and ability. Ouch!
Interestingly, Joe proposed a Penn-to-Dallas trade before the NFL Draft – one of very few hypothetical trades Joe publishes – and many commenters in that thread called Joe a circus buffoon for even thinking of such a thing. …Hmmm.
If you read Lombardi's full take, which is that the Bucs don't want to pay Penn so they might as well get good value for him, it's hard to argue with his reasoning.