More Play At Fullback Could End Graham's Career
June 17th, 2010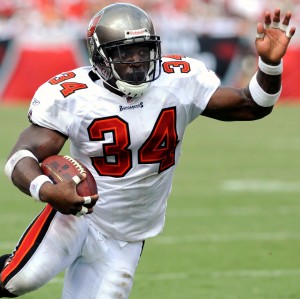 Joe has written that great guy Earnest Graham, 30, can only be depended on doing so much because he's becoming a graybeard.
The versatile Bucs back is selfless. He will play just about any position so long as he's playing. And this lack of ego may bring an end to his Bucs — or NFL for that matter — playing days.
Take for example this little nugget from dapper Rick Brown of the Lakeland Ledger concerning Graham playing fullback:
Entering his seventh year, Graham has suffered injuries the past two seasons at fullback that have ended his year prematurely.
Graham is expected to be the Bucs starting fullback this season. Brown's information just reinforces Joe's fear that Graham has already seen his best days.
This also moves Joe to write once again that the Bucs aren't as deep at running back as some would have you believe. Graham gets hurt playing fullback. Cadillac Williams is a(nother) play away from a(nother) knee injury. Kardashian-chasing Derrick Ward? Jury's still out.
After the Bucs drafted a quarterback in the first round last year, added tight end Kellen Winslow last offseason and drafted two rookies at wide receiver high in the draft this spring (Arrelious Benn and Mike Williams), Joe doesn't think he's out of line suggesting the weak link of the Bucs' offense is at running back.