Josh Freeman Talks About His 'Fro, Bucs
June 11th, 2010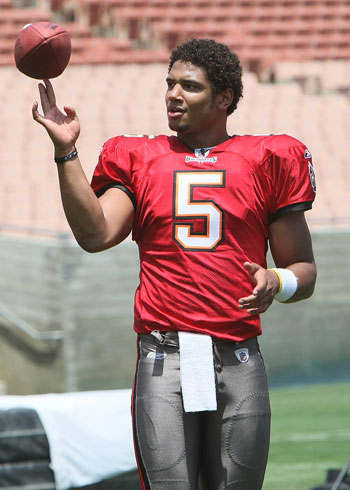 Bucs quarterback Josh Freeman called in for a visit with the Hebrew-sounding "King David Show," co-hosted by Shaun King and Toby David on WQYK-AM 1010 today.
Among the topics discussed, Freeman talked about his locks, which he trimmed. Ladies should not fret though, so Freeman said.
Shaun King:  How has the offseason gone now that you have been in the same system with Greg Olson? So you see any progress?
Josh Freeman:  I am thrilled with the progress. One thing I am excited about is the attention and the attendance of the receivers. We have Reggie Brown and Mark Bradley and the rookies. We have had 100 percent attendance from the receiver group.
King:  Tell us about Arrelious Benn and Mike Williams.
Freeman:  They are both mature guys. I texted them right after the draft and said, "Let's get to work." They said they did, but talk is cheap. But as soon as they got here, they wanted to learn as much as they could and figure this out. Maybe it's expected from a rookie wide receiver to want to learn a new offense but they have shown some real promising flashes in OTAs.
King:  Physically, who do Benn and Williams remind you of?
Freeman:  Mike is tall with really good speed. I never realized how fast he was. Mike, with his build, is a cross between Chad Johnson and Calvin Johnson.
Arrelious? He is a tough one to figure out. I can't think of any body type of receivers built like him. He is built like Eddie George but with speed. He's a crisp route-runner with good hands. He's short but Mike is really built. I haven't seen anyone jam him at the line. He's a tough one. Kind of hard to think of someone with his body type. He's a physical freak.
Toby David:  How important has it been for you to be working with the first team and building a rapport all offseason?
Freeman:  It's definitely important but what we have to do is figure out is who is our first team players going to be from a wide receiver standpoint. There's a lot of guys making plays. I can't single anyone out. The offseason work is paying off. It's not just rookies but free agents who have been making plays, guys that weren't drafted. They've been making plays as well. I am getting reps with everyone. I feel comfortable with everyone right now.
It's important to work with the offensive line and make protection calls and get into a rhythm for when the real bullets are flying.
King:  What did you identify you had to get better with?
Freeman:  Two different areas: First, interceptions. But at the same time I have to couple that with being greedy. When I say greedy from a quarterback standpoint, you want to take the shot and have the pretty touchdown. But seven points is seven points regardless of how you get it. Whether it's a 10-play drive or a two-play drive, seven points is seven points. You have to be a bit more conservative and in the long run, more efficient with your completion percentage.
King:  How has working with Alex Van Pelt gone and how are you mastering the Greg Olson system?
Freeman:  The addition of Alex has been awesome. Last year Olson doubled as quarterback coach and offensive coordinator and there was not a whole lot of personal work. With Alex, his only priority is working with quarterbacks.
As far as Greg Olson's system, I'm constantly changing and working. I am like a new player. It all comes down to protection, reading coverage and throwing the ball to the correct player. But protection has a degree of difficulty and I am working on that. 
I am way ahead of last year in learning about protection but it's still a work in progress. My goal is to become like Drew Brees or Peyton Manning. Those guys have complete control of their protection. Once you do that, it's a seven-on-seven game and once that happens, I like my odds.
David:  Describe the offense you are running. Is it a stretch the defense or is it conservative? Or is it a mix?
Freeman:  It's a little bit of both. Coach Olson has a very diverse offense. There are a number of plays to stretch the field and other plays which are basically substitutes for runs. There are slant or a hitch to get you five yards to start off a drive. But we have combo plays. They are short plays but with certain coverage they could be big plays and take it down the field. I have to understand when those looks are clear as day and to throw it deep rather than check it down. I have to know when there are shots to be taken.
King:  I have girls who I am friends with and they don't like your new head of hair. Why cut it?
Freeman:  When you are running around out on the field and its 95 degrees and humid, it's not cool. I trimmed it but it will come back. It will be back. There's only one woman who I value her opinion on my hair and that is my mother and she likes it long.