"Josh Freeman 2.0"
June 22nd, 2010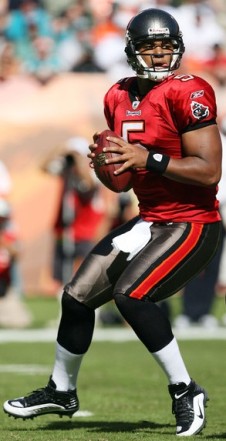 There are some things Joe does daily: eat, sleep, groom himself and watch the NFL Network.
In this piece from One Buc Palace, NFL Network's Scott Hanson reports about how Bucs second-year quarterback Josh Freeman is different entering his second season with the Bucs and his first full season as the starting quarterback.
In short, reports Hanson, Freeman had trouble remembering both plays and teammates' names last year.
Hanson also brings word about what Freeman's schedule will be like after this week's mandatory minicamp. In short, Freeman is going to one of the most beautiful cities in America.
Hanson even knows what Freeman is going to do at said city. Let's just say it's some damn fine reporting, and it's unlikely Joe would be doing the same thing in said city.