John McKay Will Be Next In The Ring
June 14th, 2010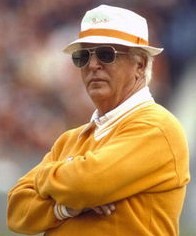 Who could argue against John McKay?
The Bucs' first and iconic head coach will be the 2010 inductee into the Bucccaneers Ring of Honor, so says Tampa Tribune NFL writer eye-RAH! Kaufman. Lee Roy Selmon was the inaugural inductee last year.
After winning four national championships at Southern Cal, McKay was named to lead the 1976 expansion Bucs. He compiled a 44-88-1 record and won two division championships, developing a national reputation for his acerbic wit.

In just the fourth year of the franchise, McKay guided the 1979 Bucs to an NFC Central Division title and a playoff win against the Eagles before dropping a 9-0 decision to the Los Angeles Rams in the conference title game at the old Tampa Stadium.
The late McKay was no doubt the perfect coach for the expansion Buccaneers and deserves the accolades.
Of course, most Bucs fans have little or no recollection of McKay. So Joe is impressed that Team Glazer picked him for 2010.
Surely, a Derrick Brooks induction would have sold a heck of a lot more tickets. It's good to see the money wasn't that important to Team Glazer.