"He's Got A Pro Bowl In Him"
June 21st, 2010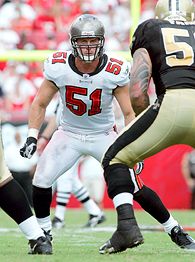 How good is Barrett Ruud?
The debate has raged on for a couple of years about the "quarterback" of the Bucs defense, as Raheem The Dream calls him.
Some esteemed analysts think Ruud is a manbeast who recorded a career high 142 tackes last year. Others think he's overrated and needs to learn how to shed a block and make big plays. Still others are undecided.
Tampa Tribune veteran scribes Roy Cummings and eye-RAH! Kaufman take on the subject of Barrett Ruud in their latest Bucs Video Blog, better known as a Vlog in cool guy circles.
Joe won't spoil the video for you, but one of these beat writers thinks Ruud's "got a Pro Bowl in him."