Herm Edwards And Jimi Hendrix
June 20th, 2010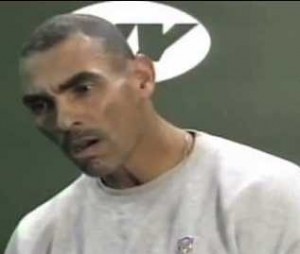 OK, Joe knows this is a Bucs blog, so Joe is stretching the Bucs connection on this one. But it's so good Joe couldn't pass it up.
Former Bucs secondary coach Herm Edwards is one of the most buttoned-up, straight-shooting coaches who ever graced an NFL sideline. A strict upbringing in a military family, he sent his son Marcus to a Catholic high school (Clearwater Central Catholic to be exact).
So the thought of Herm hanging with Jimi Hendrix is a bit of a stretch. But that's exactly what happened, in a matter of words.
Herm, who seems to be trying to outdo super agent Ralph Cindrich in the number of Twitter posts daily, confessed this morning on his Twitter feed that he watched Jimi Hendrix at the infamous Monterey Pop Festival.
@DaRealKingKong:  best musician of all time?

@HermEdwardsESPN:  Jimi Hendrix, I saw him live june 18 1967 at the monterey pop festival.

@korykozak:  wait … Jimi lighting his guitar on fire?! You saw that?! Wow!

@HermEdwardsESPN:  Yes!!!
For some reason, Joe just can't picture Herm jamming with Jimi. Just can't. But it's way cool to think that Herm is one of the handful of people still alive and who can still remember seeing Jimi Hendrix.
Joe is of a younger generation. Joe has seen Eddie Van Halen three times, the first in his heyday when the band that bears his name was the Tyrannosaurus rex of music. Watching Eddie Van Halen do things with his guitar that mere mortals should not be capable of doing — and laughing at the same time — was clear evidence to Joe of a supreme being.
At any rate, for a taste of what Herm saw live, by the magic of YouTube, here's Hendrix at the famous Monterey Pop Festival in 1968.