Numbers Claim Stylez G. White Is A Stud
May 31st, 2010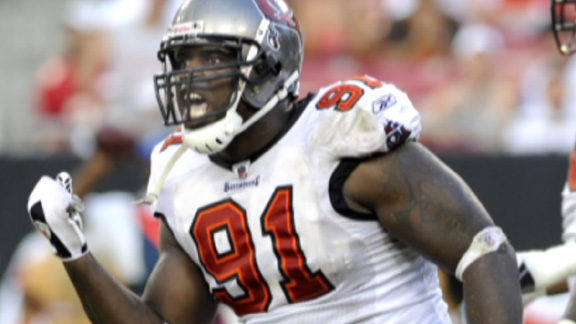 Joe just isn't about football. He likes other sports too, including baseball.
For some reason, likely because of fantasy baseball, it seems the calculator crowd has tried to take over the game of baseball.  In, oh, the past decade, all sorts of statistical nonsense has been invented largely because some clown who got bored at home and decided to play with an Excel spreadsheet and invent acronyms like OPN and WISP.
(In baseball, one statistic that greatly concerns Joe is AWLB: At-bats While in Line for Beer.)
And it's godawful boring. There's a reason why numbers geek Bill James is often credited with this phenomenon during his days as an overnight security guard. That factual sentence is damning on many levels.
As a result, some have tried to do this with football. Thankfully, this trend has not had great success. One such proponent of football statistical jibberish is something called ProFootballFocus.com.
Per the spreadsheeters there, Stylez White is an elite defensive end, so discovers Woody Cummings of the Tampa Tribune.
What aided White is the fact that PFF looks at more than just sacks. Though it does so at a fraction of the value given to a sack, it also takes into account quarterback hits and pressures in accumulating its Pass Rushing Points total.

That total is then divided by the total number of regular defensive plays the player participated in during the regular season and is finally multiplied by 100 to get the Pass Rushing Productivity Rating.

In the final 2009 rankings, Dwight Freeney led all defensive ends with a 13.7 rating. He was followed by Robert Mathis (11.2), John Abraham (10.5), Leonard Little (10.2), Ray Edwards (10.1) and White (10.0).
Look, Joe doesn't need some formula to figure out White is a good defensive end. Does he get pressure on the quarterback? Check. Does he lead the team in sacks? Check. That's all.
Joe just prays he doesn't read someday from some spreadsheeter about a football player's OBGYN.