Michael Clayton Talks To Joe
May 25th, 2010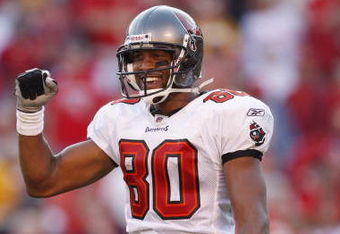 Tuesday, Joe met Bucs wide receiver Michael Clayton at the Chris Thomas Memorial golf outing at Feather Sound Country Club. Clayton actually flew in from parts unknown Tuesday morning just to help raise funds for the Suncoast Hospice Foundation, an organization that assists those in need from all walks of life.
Clayton spoke with Joe about the Bucs offense this season, specifically about the professional growth and influence quarterback Josh Freeman has had on his teammates.
JoeBucsFan:  How much has it helped both Josh Freeman and you, along with the offense, to be able to work with Freeman for a full offseason?
Michael Clayton:  Oh, it's fabulous. [Freeman] has done everything in his power to make himself better. The reps that he is getting, it's a whole new, different level of intensity. The throws that he is making [now], we didn't get a chance to see that last year.
Basically last year, he was just waiting in the wings.
The way he approaches the game, he really makes our team better. We have made some good choices in bringing in some good receivers so [Freeman] will be able to make some plays down the field. [Working with Freeman in the offseason], it's been a good thing this year.
Joe:  What was your take on how Freeman actually went to Arrelious Benn's hotel room during OTAs to work with him and Mike Williams to go over tape?
Clayton:  He definitely has that leadership role in him. To be able to relate to young guys and let the young guys know what he went through and maybe why he wasn't as successful, to let those young guys learn from his situation is very big. For [Freeman] to be more mature this year and kind of bring those guys along, they are going to be better for it in the future.
Joe:  Do you see guys, your teammates or coaches feed off of that energy and work ethic?
Clayton:  Oh yeah, definitely, I've already seen Rah scripting his plays for the offense so he won't get embarrassed every day [laughs]. So I've seen that too. [Freeman] has really upgraded this team by his dedication to be there in the offseason and to do his diligence. We're all better off for it.
Joe:  Last summer when Kellen Winslow spoke to Joe, he described Freeman as the "black Ben Roethlisberger." How accurate is that?
Clayton:  [laughs] He has all of those talents! Josh has a little stronger of an arm and maybe more accurate but Ben can move in his pocket so well. That will come for Josh with experience. Josh is blessed with that talent as well. Year by year we will see him get better but he is one of those guys [like Roethlisberger] who can think on the run and make plays when it's not there.  That's really big for a second-year quarterback who didn't play for the first seven games. We're excited for him.