Beginning Of The End For Donald Penn?
May 14th, 2010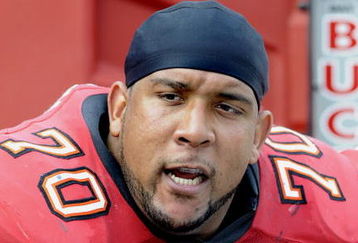 Joe has stated several times before two things:
1) Arguably, Donald Penn was the Bucs best player last season.
2) Until there is a new CBA, anyone expecting Team Glazer to load up on free agents should ask the bartender for another cold adult beverage.
Stuck in the middle of those two premises is Penn himself. He knows he is a stud. The Bucs know he is a stud. But he will not be paid like an NFL stud, at least not for the 2010 season.
As a result, when OTAs commence next week at One Buc Palace, Penn is making noises that he may not show up. That's the news from Woody Cummings of the Tampa Tribune.
Penn is still bent over the Bucs refusal to give him a long-term contract. He's no different than middle linebacker Barrett Ruud in that sense, but unlike Ruud, Penn has yet to figure out that skipping workouts won't change that.

Penn, Ruud and dozens of other worthy players are being forced to wait on the long-term contracts they desire and deserve because the NFL and its player's union have yet to agree on a new collective bargaining agreement.

That obviously Penn, Ruud and all the others with very uncertain futures, but there's one thing Penn can be certain of. The Bucs still consider him a big part of their future.
Cummings goes on to type that Penn has an ace in his corner, and that is Bucs general manager Mark Dominik. It was Dominik that thought enough of Penn to pull him off the scrap heap and resuscitate his career.
In a roundabout way, it was Dominik that made Penn a wealthy man who is about to get wealthier.
Look, the Bucs need Penn. Next year is pretty much a wash, let's be honest. For the Bucs to succeed next year, it means they must get stellar play from four or five rookies. Does anyone realistically expect that to happen? That's asking a whole lot.
If Penn sits out, he sits out. But the Bucs will need him when play resumes after the 2010 season ends, which may not be until 2012.