Beat Writer Skeptical Of Agents Bashing Williams
May 14th, 2010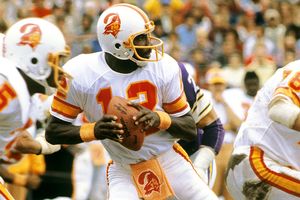 That Bucs beat writer Stephen Holder is a classy guy.
Holder worked hard to take the high road while publicly doubting the depth of unsourced claims made by a certain outfit that quoted anonymous agents bashing Doug Williams last year. (Joe will not name the outfit today because he doesn't feel like dealing with the whiny, juvenile hate e-mail that follows.)
And Holder succeeded on the high road by not naming said outfit when he took time to throw cold water on those anti-Williams rumors during a radio interview on 1010 AM.
Appearing as a guest with Shaun King and Toby David, Holder, who works for the St. Pete Times, was asked how the recently departed Williams is regarded by the Buccaneers and NFL executives. Holder responded by defending Williams, even though he wasn't prompted to. 
Toby David: In football circles, how is Doug Williams regarded by executives with the Buccaneers and around the league. What was his reputation?

Stephen Holder: …I know that there was some talk that he was not highly regarded. I have not, I have to be honest, I have not heard that from people. And, you know, I'm not going to tell you it's a frequent topic of conversation, per se, but I have not gotten that sense from people. And it doesn't mean that there's not any sense of that out there, but I have not heard that from people. I feel like for what they asked him to do, he did it adequately. And that's the bottom line here. They weren't asking him to perform a general manager type role. Yeah, he would be dealing with agents in some capacity, but the majority of those conversations are going to take place with the general manager, when you get into the high-level conversations, you know. So he's not the one negotiating contracts. He's not the one making a decision on whether they want to sign a player or not sign a player. So, you know, that's where you really get to develop those reputations among agents and people in that circle. So I don't really know that there's much sentiment out there about that. There may have been some, and clearly there was because I know it's been expressed. But I've not heard that, and I don't get the sense that it's nearly as widespread as we've been told. So that's my opinion of that."
That was a curious response from Holder, considering he wasn't asked about agents, only about NFL executives and Bucs officials.
In honor of Holder taking such a high-road, non-confrontational stance on this issue, Joe will decline his usual post-ending comment.
Joe's readers can read between the lines themselves.